Villa Layout
Villa Saan is set over four floors with a pair of two-storey pavilions flanking the grand entrance and furnished pool terrace.
 At entry-level are the villa's living spaces including a games room, cinema, living room, dining room and kitchen.  The large master suite occupies the entire top floor of one pavilion while two more king-bedded bedrooms are on the top floor of the opposite pavilion.  Four more bedrooms with sea-view balconies are set along a corridor spanning the villa's length just below the pool deck, while the eighth bedroom is on the villa's ground floor, alongside the gym and spa facilities.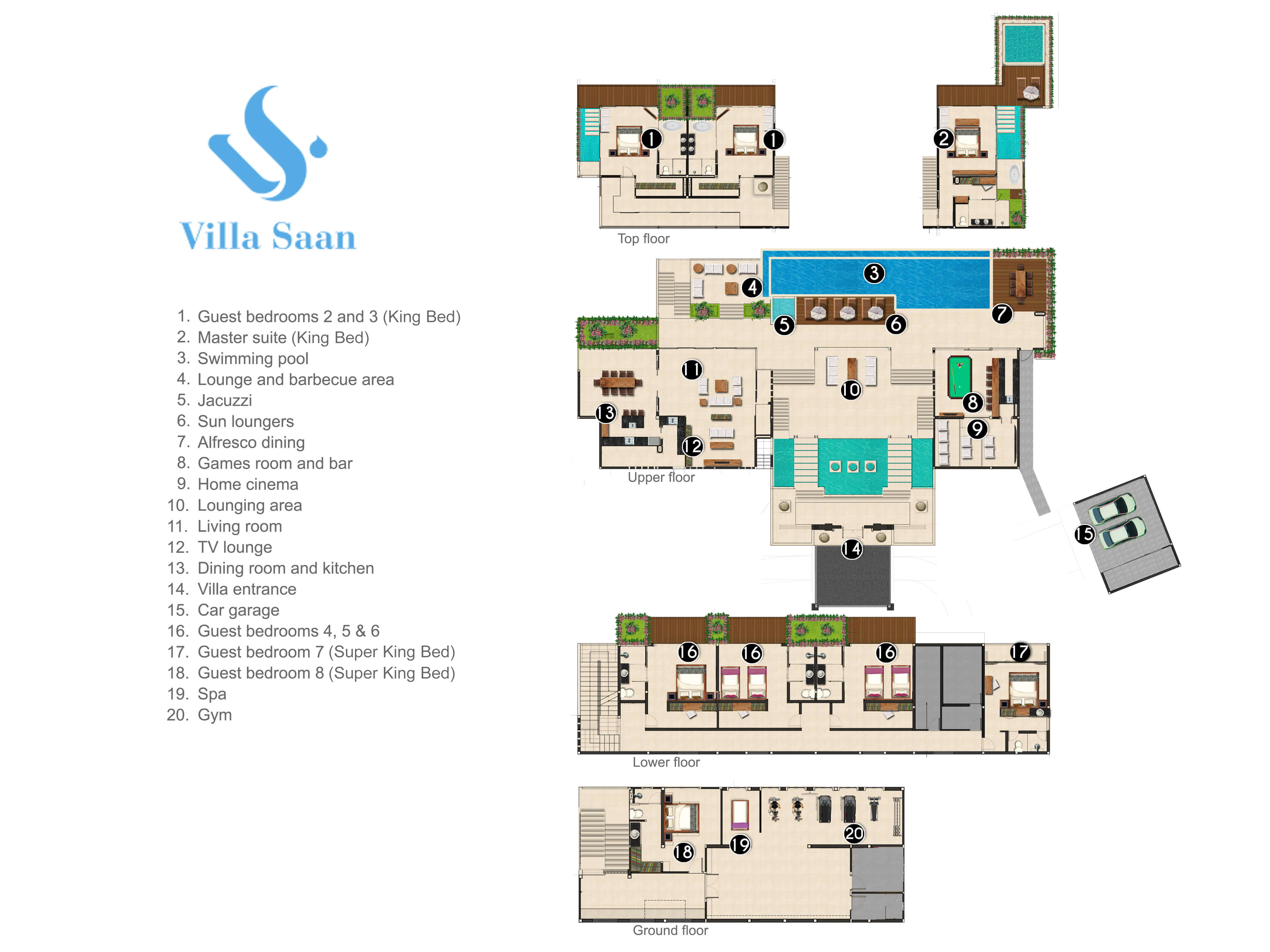 Download in high resolution
Living areas

Indoor living
The villa's majestic entrance pavilion is a wonderful place to linger and relax, with its high vaulted roof that offers shade for the comfy sofas set in front of a burbling pool. 
To one side of the entrance is the living room, a cool escape with an inviting white sofa lounging area oriented to view the sunset through floor-to-ceiling glass walls.  To the rear of the room is a TV lounge with a well-stocked bookshelf and Buddhist artwork adding a sense of serenity. Sliding doors lead to the dining room and kitchen, a modern and rather sexy space with 12 red suede chairs lining a solid wood table.  The open guest kitchen with a big wine fridge and modern appliances sits to the back of this area while across the entire front are glass doors that slide open to the terrace, furnished with a poly-rattan dining table.  The staff kitchen, where the chef prepares an array of tempting Thai treats, is tucked away behind the guest kitchen. To the other side of the entrance is a games room with pool table, bar and entertainment unit adjacent to the sumptuous home cinema, fitted with projector screen and soft seats designed for an authentic cinematic experience.  Downstairs is the villa's gym, equipped with top-notch fitness and spa facilities.

Outdoor living
Stretching across the front of the villa's grand entrance pavilion is the 19-metre pool with integrated jacuzzi, perfect for enjoying the sea views while soaking in cool comfort.  Sun loungers line the pool's length, while in the corner of the terrace near the games room is shaded lounge seating, a furnished sala and a barbecue area, a great spot to indulge in some sunset cocktails before firing up the grill for your seafood dinner.  The gym on the villa's lower floor overlooks the garden, carefully landscaped with colourful tropical trees and plants.
Bedrooms

Master suite
A truly romantic oasis boasting its own jacuzzi plunge pool with panoramic views and a double bathtub discreetly tucked away on the private terrace.  This bright, king-bedded room is chicly furnished with a white loveseat and ottoman.  Hidden behind the room's desk area is a walk-in wardrobe and the luxurious bathroom where the rain shower's glass enclosure gives it an alfresco feel.
Guest bedrooms 2 and 3
Two large king-bedded guest rooms share the top floor of one pavilion, each with fabulous sea views, private terraces, wardrobes and lavish ensuite bathrooms with double bathtubs.  One of the bedrooms has a side terrace with a reflecting pool and outdoor shower.


Guest bedrooms 4 to 8
Four guest bedrooms are arranged side by side below the pool terrace, each featuring sea- and garden-view balconies and ensuite bathrooms with rain showers.  One room is queen-bedded, the other two have twin beds that convert to king-size beds and the corner room is furnished with a super king-sized bed.  Next to the gym, on the ground floor of the villa, sits the eighth guest bedroom with a super king-sized bed and is ensuite.  Spacious, bright and elegant, these rooms will appeal to kids and adults alike.
Guest Reviews
September 13th, 2019 - September 16th, 2019

Thank you to the whole team for your attentive service and we look forward to returning!

EMMANUEL M, Hong Kong

September 1st, 2019 - September 8th, 2019

Thank you to all the wonderful staff at Villa Saan. You all looked after the whole group with such care and attention. We had a wonderful time and I am sure we will be back in the future. Thank you

Dr Mike A, Australia

August 15th, 2019 - August 25th, 2019

Thank you to all the wonderful staff, delicious food and fantastic service! Villa Saan has been such a memorable holiday!

Jenny C, Australia

August 3rd, 2019 - August 7th, 2019

To all staff in villa Saan, Thank you so much for a wonderful service.

Wai Lim L, Hong Kong

July 26th, 2019 - July 29th, 2019

To all the staff and friends at villa Saan, You made our trip a memorable experience. We loved every second of our stay!

Desmond W, Hong Kong

March 12th, 2019 - March 15th, 2019

Thank you team Saan, Thyme you are an incredible chef and host. So many incredible memories. We felt spoilt and truly relaxed, until the next time.

Shobie K, Australia

March 9th, 2019 - March 12th, 2019

Thank you very much for your gracious hospitality and making us feel at home. We will definitely recommend this to anyone traveling to Phuket. Thank you for everything, you made our stay in Thailand awesome.

Minsi F, Thailand

February 26th, 2019 - March 3rd, 2019

We had such an amazing family vacation in this villa. The food was delectable and the attentiveness from the staff was tops. Sunset views are amazing. Thank you Villa Saan for everything.

Tan J, Singapore

February 21st, 2019 - February 25th, 2019

Kade and her staffs were amazing - so polite and great food. Their hospitality was perfect.

Danny G, South Korea

February 4th, 2019 - February 9th, 2019

Excellent villa and services are great. Thank you very much to the staff. They took care of us very well. Everybody enjoyed the holiday very much. Thanks again and Happy Chinese New year.

Sukey Y, Hong Kong

January 26th, 2019 - February 2nd, 2019

A great week in a great villa with wonderful staff and great food. Thank you to all so much.

Paul and Sarah, Hong Kong

January 15th, 2019 - January 22nd, 2019

Food was amazing. The team made our stay super pleasant and easy. Service was really good, 100 ++. Thank to the entire team

Raphael G, Hong Kong

December 11th, 2018 - December 15th, 2018

Over all it was a pleasant stay at Villa Saan. Thanks all staff who work extremely hard for us. Make us feel like home.

Wei C, China

December 8th, 2018 - December 11th, 2018

Thank you so much for being so kind and helpful. You all made our stay in Phuket magical. We have traveled around the world and stayed at many of the nicest hotels, but this has been our favorite. We cannot wait to come back and spend more time in this beautiful country, villa and city.

Veronica A, United States

October 25th, 2018 - October 29th, 2018

Thank you so much for all of your nice accommodation. The team are excellent. All the heart warming attention to details are so appreciated.

Ava L, Hong Kong

October 21st, 2018 - October 25th, 2018

Many thanks for the wonderful stay. The staff was superb. We look forward to come again to this fantastic place.

Alexander B, Germany

October 13th, 2018 - October 17th, 2018

We were always taken care off by Kade's team in Villa Saan. This is the 5th time we've been here. Looking forward to coming back again very soon. Thank you for everything.

Steve C, Indonesia

October 6th, 2018 - October 13th, 2018

Thank you so much for an unforgettable holiday. It was so amazing to celebrate my husband 40th at your beautiful villa. The chef and beautiful staff were amazing. The food was incredible! Thank you for everything.

Vanessa A, Australia

September 21st, 2018 - September 25th, 2018

Thank you for your kind hospitality and great service. We all had such a wonderful time in Phuket. This will not be our last time here. The staff were great and were incredibly hospitality. Had a great time and would be back again.

Jonathan L, Hong Kong
read more reviews
Perfect for families and friends, the six-bedroom Villa Samira is a stylish holiday getaway adjacent to Villa Saan. The two villas can be rented together as a fabulous 14 bedroom option, ideal for larger groups.
Explore